04
Nagarjun was born as Baidyanath in a Maithil Brahmin family of Mithila region of Bihar in 1911, he grew to become a restless traveler, a Sanskritist, classicist scholar, poet and religious rebel. He came under the spell of the anti-colonial nationalism and joined the revolutionary peasant movement led by Swami Sahajanand Saraswati. He wrote in Maithili under the pen name 'Yatri' (Hence the name Baidyanath Mishra 'Yatri'). His association with the legendary Hindi litterateur and Buddhist scholar Rahul Sankrtyayana led him to travels to Sri Lanka and conversion to Buddhism. He became a communist at the same time and started writing in Hindi under his new Buddhist name Nagarjun.

Early on, he was disillusioned by the great compromises and the dilution of the revolutionary agenda effected by the national leaders. He started writing about the middle-class character of Congress-led nationalism and its disastrous implications for the poor peasantry, artisans and labouring classes. He was jailed for his political and agitational activities several times before as well as after Independence.

Though always a well-known a popular poet and writer he was ignored by the conservative literary and critical establishment for a long time—till the great cultural upsurges in the Hindi speaking north Indian belt in late 60's and early 70's broke down the old literary order and turned writers like Nagarjun, Muktibodh, Shamsher Bahadur Singh, Trilochan and Raghuvir Sahay into cult figures. Nagarjun also became the poetic voice of the famous Bihar Movement led by Jayaprakash Narayan and was put behind the bars by Indira Gandhi's Emergency Regime. He became a popular hero and cause celebre of Resistance movement against the Emergency. He soon got disillusioned with the right wing tilt and politically dubious character of the leadership of the 'Total Revolution', i.e., Bihar Movement, which he openly critcised and immortalised his critique in a collection of poems called Khichri viplav dekha hamne (Witnessing a hotchpotch insurrection). In the succeeding years he continued his creative onslaught on the establishment.

Baba's lasting contribution to Hindi poetry is in his attempt to give a public face to contemporary poetry which otherwise has tended to get more and more personal, private and introvert. He also brought to it the force of the tradition, which he freely manipulated to serve his radical purpose. He also set an example for the intelligentsia by sticking to the lifestyle of a fakir—bereft of all unnecessary trimmings of middle class existence and his readiness to rub shoulders with the 'riffraff' with whom he always identified himself.

Baba's works include: Baba Batesarnath, Balchanma,, Ratinath ki Chachi; (Novels); Patrahin nagna gachh, Khichri viplav dekha hamne; translations of Jayadeva's Gita Govinda, works of Kalidasa and many other classical works of Sanskrit literature.

Poems of Baba Nagarjun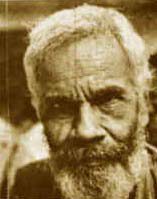 Nagarjun
1911-1998

The grand old man of post-Independence Hindi literature, lovingly known as 'Baba' all over north India, is no more. He died on 5th November 1998 in his native town of Darbhanga, Bihar. There will never be a Baba again. For some time to come contemporary Hindi poetry and prose is bound to look like patrahin nagna gachh (leafless naked tree), which incidentally was the title of one of his later books of poems.

We dedicate this fourth issue of our magazine to his memory. We present a short selection of his poems, to which we hope to add a substantial number in future.